Why should I update this section? I loved the Hall of Fame. I gave over five years of my life for less than 25K a year. I created this site to help promote the place. At least they showed me where the door is located.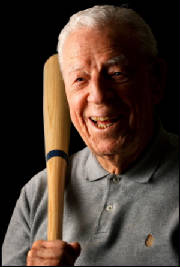 In Memoriam: Bill Werber
On Jan. 22, the Reds Hall of Fame lost its eldest member when Bill Werber (Hall of Fame Class of 1961) passed away in Charlotte, N.C. at the age of 100. Werber was the oldest living former Major League player and was a member of the Reds teams who won the NL Championship in 1939 and the WorlSeries Championship in 1940.
2009 Admission Passes Now On Sale!
Pay one time and visit as many times as you wish through Dec. 31, 2009!

With changing exhibits, player appearances, interactive exhibits and much more, the Reds Hall of Fame has so much to see and experience. You'll want to come back time and time again, making the 2009 Admission Pass the perfect choice for any Reds fan.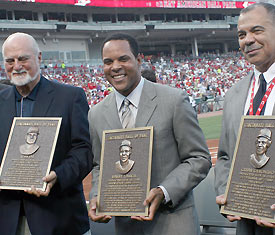 Reds Greats enshrined in Hall of Fame.
Larkin, Geronimo, Jay and the late Herrmann are honored.
Barry Larkin didn't hesitate to call Cincinnati his home, say kind words about the Reds or admit that there is a possibility and a desire to one day return to his former team as a member of the front office.
The former Reds shortstop has spent the past three seasons as a special assistant to Nationals general manager Jim Bowden, but his contract expires at the end of this year.
"There's been a lot of thought about it," Larkin said of a possible return. "It's just the opportunity hasn't presented itself yet. My contract is up at the end of the year, so I'll be a free agent."
Larkin was in Cincinnati on Saturday as one of four honorees being inducted into the Reds Hall of Fame. Cesar Geronimo, a center fielder during the days of the Big Red Machine, 1960s pitcher Joey Jay joined Larkin for an on-field ceremony before the game with the Mets. The late executive Garry Herrmann was also honored during the ceremony.
Larkin has made several trips to the area, but none in as public a scene as this one. He retired from baseball after the 2004 season when the Reds refused to offer him another contract and went to work for the Nationals soon thereafter.
"Coming back here, it's bitter and it's sweet," Larkin said. "The hardest thing I had to do was leave knowing that I wasn't coming back. I never envisioned leaving Cincinnati at all, in any point in my career. That wasn't part of the script."
Larkin said he was asked by Bowden and Cardinals manager Tony La Russa to continue his playing career after 2004. The Cardinals only offered Larkin a spot as a player, while the Nationals offered him a spot in the front office if he didn't want to remain on the field.
"I ended up calling Tony La Russa and told him I grew up thinking Cardinal red was the wrong shade of red," Larkin said. "Then I decided to not play and go to Washington and work. For that entire year, I could not and would not put on a team uniform.
"I put on the windbreaker, the pants, but Larkin No. 11 in the Nationals uniform -- I did not put it on for the entire year. I'm just wired that way. It's just my loyalty. I didn't feel right."
Larkin spent all of his 19 Major League seasons with the Reds, capturing the 1995 National League Most Valuable Player Award and helping the team win the 1990 World Series. A 12-time All-Star, he hit .295 during his 2,180-game career, won three Gold Gloves and was a nine-time NL Silver Slugger Award winner.
He visited with several current Reds and other club Hall of Famers earlier in the day and gave a speech during an on-field ceremony before the game.
"Unfortunately, we've had a hiccup for the last few years, but like I said, we'll see what happens," Larkin said. "Hopefully, we'll get an opportunity to possibly hook up again."
Larkin was in good company, too. Geronimo, known for his gazelle-like presence in center field, won two World Series with the Big Red Machine in 1975 and '76. A native of the Dominican Republic, he played for Cincinnati from 1972-80.
"When I was traded to Cincinnati from the Houston Astros, I thought I was going to a much better team, and I was right," Geronimo said. "It's a privilege to be here. I know I played with some of the best players in baseball."
Jay won 21 games in 1961, helping the Reds to their first National League pennant since 1940. He was the first Red since Ewell Blackwell in 1947 to eclipse the 20-win mark.
The Reds fell to the Yankees in five games in the World Series. Jay's start was their only win.
"This means a lot," Jay said. "It was a big surprise, but a very welcome surprise. It wasn't something I'd thought about. It took a little while to sink in. I started thinking about all the great players this organization has had, and to be a part of this is very awesome."
Herrmann was the Reds' chief executive officer and general manager from 1902-27. He served as chairman of the National Commission -- baseball's governing body at the time -- and helped establish the modern World Series in 1905.
Herrmann, who died in 1931, is often referred to as "The Father of the World Series."
Hall of Fame to have two new exhibits for 2008.
The first exhibit titled"Cincinnati's Reds" combines an 80-foot graphic timeline, period artifacts from the careers of each of
the 75 members of the Reds Hall of Fame and what is believed to be the largest team picture mural ever created to celebrate the Reds' special link to the city of Cincinnati. In doing so, the exhibit highlights the exclusive group of 75 players, managers and executive who have been honored with induction to the Reds Hall of Fame.
The second new exhibit titled

"The Ol' Lefthander" pays tribute to the late Joe Nuxhall, the pitcher turned broadcaster who became the most beloved figure in the history of the Cincinnati Reds. With the assistance of Joe's family, friends and numerous Reds fans, a wide range of artifacts from throughout Joe's remarkable career are on display, many of them for the first time. Visitors to the exhibit will also see a special film tribute to Joe and can revisit some of his most memorable calls on special listening stations designed specifically for this exhibit. "The Ol' Lefthander" is a moving tribute to an irreplaceable man. "The Ol' Lefthander" exhibit is presented by Bob Evans.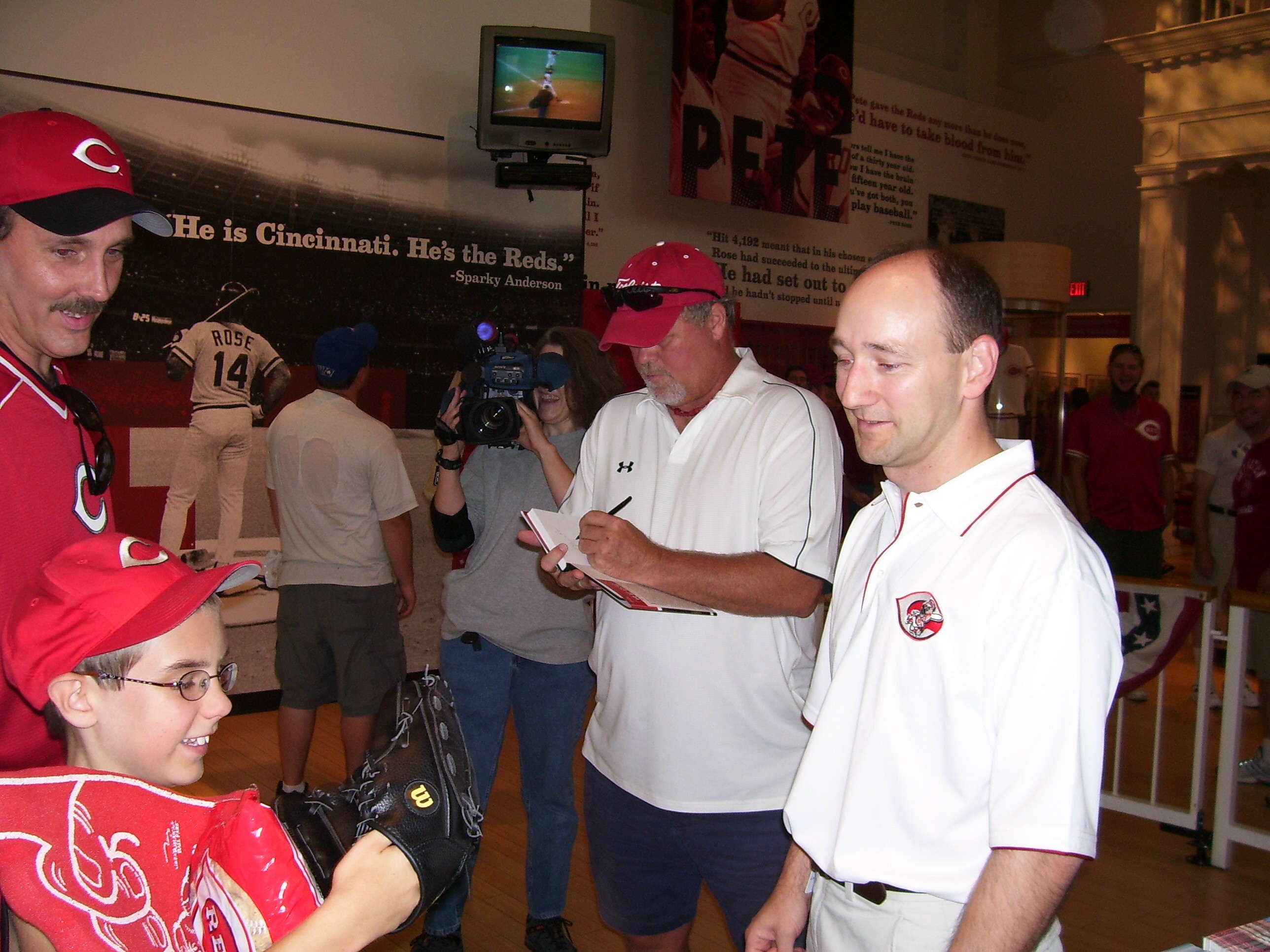 100,000th visitor to Reds Hall of Fame and Museum
Roger Hysell with his son, Ryan, 11, was the 100,000th visitor to the Reds Hall of Fame and Museum this year, Aug. 12. The family from Columbus, Ohio were greeted by Reds Hall of Fame pitcher Tom Browning and new director of the Reds Hall of Fame Rick Walls.

They received a gift bag that included: two tickets to next year's Reds Hall of Fame induction dinner, a family membership to the Hall of Fame and merchandise from the Hall of Fame.
Concepcion to meet fans Thursday

Fans can meet No. 13 at the Reds Hall of Fame
The Cincinnati Reds Hall of Fame and Museum will host David Concepcion for a "meet and greet" with fans from 5:30-6:30 p.m. Thursday, Aug. 23. Admission is $5 with a same-day game ticket. Pictures are allowed, but the Reds Hall of Fame is asking for no autograph requests in order to allow as many fans through as possible.

Concepcion's 13 will be the ninth number retired by the Reds, joining Fred Hutchinson's 1, Johnny Bench's 5, Joe Morgan's 8, Sparky Anderson's 10, Ted Kluszewski's 18, Frank Robinson's 20, Tony Perez's 24 and Jackie Robinson's 42. Concepcion was inducted into the Reds Hall of Fame in 2000.

As the starting shortstop on the Big Red Machine, Concepcion was teammates with Bench, Morgan and Perez under manager Anderson on a club that from 1970-78 went 863-586 (.596) and won five National League West Division titles, four pennants and two World Series championships. The '75 and '76 Reds combined to go 210-114 (.629) and became the National League's first franchise in 54 years to win consecutive World Series titles. Concepcion was named team captain in 1973.

With 8,723 at bats in 2,488 games Concepcion ranks second in club history in both categories behind Pete Rose. Since 1900, he ranks among the franchise's all-time leaders in hits (2,326; 3rd), doubles (389; 3rd), stolen bases (321; 3rd), run scored (993; 5th), total bases (3,114; 5th) and RBI (950; 6th).

Concepcion, 58, was a nine-time National League All-Star, fourth-most in club history (Bench 14, Rose 13, Larkin 12), and his five Rawlings Gold Glove Awards are second only to Bench's nine Gold Gloves. He was the Most Valuable Player of the 1982 All-Star Game, three times was The Sporting News All-Star and twice won Louisville Slugger Silver Slugger Awards. He was voted the Reds' MVP in 1981.

The Hall of Fame is open Monday-Saturday from 10 a.m. until 5 p.m. and Sunday noon to 5 p.m. on non-game days. On dates of Reds home games, the Hall of Fame is open from 10 a.m. until 7 p.m. for afternoon games, and from 10 a.m. until 8 p.m. for all evening games.
Reds name new Hall of Fame executive director

Rick Walls to replace Greg Rhodes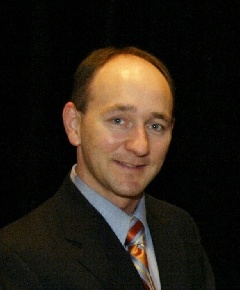 The Cincinnati Reds Hall of Fame and Museum Board of Directors President Robert S. Castellini today named Rick Walls executive director of the Reds Hall of Fame and Museum.

On Aug. 1 Walls will replace Greg Rhodes, who resigned from that position earlier this season. Rhodes will remain with the Reds as team historian.

Castellini said, "We are pleased to have been able to find someone with Rick's combination of strong museum management skills, sports background and knowledge of the Cincinnati Reds' market place."

Walls, 38, previously worked for The National Football Foundation and College Hall of Fame.

Since April 2005, Walls has been the executive director of the College Football Hall of Fame. He was responsible for all operations of that $15 million, 58,000-square foot facility in South Bend, Indiana. With a budget of $1.7 million, the hall hosts more than 200 events annually, including the Enshrinement Festival and legends luncheon series.

From 1997-2005, he worked for the National Football Foundation and College Hall of Fame in Morristown, New Jersey, first as east region coordinator, then as director of public relations and awards/special projects and finally as director of operations. In his most recent position there, he oversaw the day-to-day operations of the foundation.

When the College Hall of Fame was located next to Kings Island amusement park near Cincinnati, Walls was the assistant director of the traveling hall of fame and then collections manager. When the hall moved to South Bend in 1993, he was instrumental in the design and planning stages for the construction of the new facility.

Walls majored in sport industry at Ohio University and graduated from there in 1990 with a bachelor's degree of science in sports sciences. Before he was hired by The National Football Foundation and College Hall of Fame, he was an intern for WLWT-TV 5 in Cincinnati.
Voting for 2008 Reds Hall of Fame class starts Aug. 1

Fans can vote online, by mail, or at Great American Ball Park
Starting Aug. 1, Reds fans can start voting for the 2008 Reds Hall of Fame class. Fans can cast their ballot at the Cincinnati Reds Hall of Fame and Museum, at Great American Ball Park during Reds home games, online at www.reds.com, or by mailing their ballot to the Reds Hall of Fame. Ballots can also be picked up at participating hhgregg stores throughout the tri-state. hhgregg is the presenting sponsor of the 2008 Reds Hall of Fame fan vote.

Included on this year's ballot are: Jeff Brantley, Norm Charlton, Rob Dibble, Dan Driessen, Tom Hume, Ray Knight, Barry Larkin, Hal Morris, Ron Oester, Joe Oliver, Paul O'Neill, Dave Parker, and Chris Sabo. The player receiving the most votes will be inducted into the Reds Hall of Fame in 2008. Voting concludes Aug. 31 with the winner announced in September.

Fans voting online can visit www.reds.com and vote up to 10 times per e-mail address. Ballots submitted by mail should be sent to: Cincinnati Reds Hall of Fame and Museum; Attn: Hall of Fame Vote; 100 Main St.; Cincinnati, OH 45202. Ballots must be postmarked by Aug. 31.

New to the ballot this year is the opportunity to catch a Reds game with Mr. Perfect, Tom Browning. When fans submit their paper or online ballot, they can also be entered in to win two Diamond Club tickets to the Reds-Cubs game on Sept. 30, 2007, and be hosted by Browning.

Founded in 1958, the Cincinnati Reds Hall of Fame is one of the oldest team Halls of Fame in Major League Baseball. For the first three decades of the Reds Hall of Fame's existence, fans determined which Reds players would be inducted by completing ballots at Crosley Field and Riverfront Stadium. The Hall of Fame is pleased to revive this tradition for a new generation of Reds fans.

Currently, the Reds Hall of Fame is featuring its PETE exhibit, celebrating the 24-year playing career of Pete Rose, Major League Baseball's all-time hits leader. Featured exhibit items include the hit ball and bat from Rose's record-breaking 4192 hit, game-used gloves from all five positions Rose played, and an award-winning movie in the Reds Hall of Fame's theater detailing Rose's playing career.

Starting Aug. 1, the Hall of Fame will be open Monday-Saturday from 10 a.m. until 5 p.m. and Sunday noon to 5 p.m. on non-game days. On dates of Reds home games, the Hall of Fame is open from 10 a.m. until 7 p.m. for afternoon games, and from 10 a.m. until 8 p.m. for all evening games.